OLMIN 40 H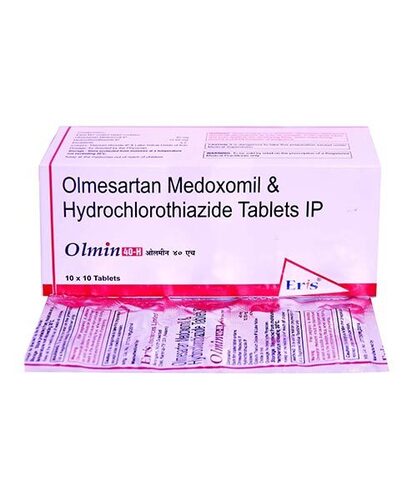 OLMIN 40 H
Price And Quantity
Product Specifications
General Medicines

Tablets
Product Description
Product name : OLMIN 40 H
Generic Name : Olmesartan medoxomil & hydrochlorothiazide
Manufacturer: Eris lifescience
OLMIN 40 H Tablet, an angiosen 2 receptor blocker(ARB), is used to lower highblood pressure. It is either used alone or in combination with other medicines. It lowers blood pressure by helping the blood vessels torelax, thus facilitating easy movement of blood. Optimal blood pressure levels help prevent kidney disorders, strokes and heart disorders. Take OLMIN 40 H Tablet as directed by your physician, usually once with or without food on a daily basis.
OLMIN 40 H Tablet is a type of angiosen 2 receptor blocker (ARB). This drug lowers high blood pressure, by relaxing blood vessels and allowing blood to flow smoothly. Although it is primarily used to treat high blood pressure, it can also be used to treat other conditions if your doctor determines so.
Uses of OLMIN 40 HTablet
Olmesmart 20 mg Tablet is used in the treatment of high blood pressure.
OLMIN 40 H Tablet side effects
Side Effects are Dizziness, Back pain, Sinus inflammation, Increased potassium level in blood.
How to use OLMIN 40 H Tablet
Take this medicine in the dose and duration as advised by your doctor. Swallow it as a whole. Do notchew, crush or break it.OLMIN 40 H Tablet may be taken with or without food, but it is better to take it at a fixed time.
How OLMIN 40 H Tablet works
OLMIN 40 H Tabletis an angiotensin receptor blocker (ARB). It relaxes blood vessel by blocking the action of a chemical that usually makes blood vessels tighter. This lowers the blood pressure, allowing the blood to flow more smoothly to different organs and the heart to pump more efficiently.