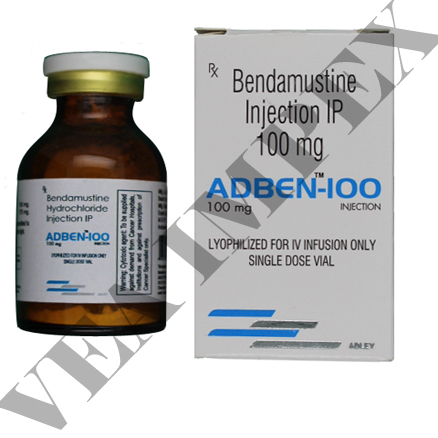 Adben 100 mg(Bendamustine Injection)
Price And Quantity
Product Specifications
Product Description
Productname : Adben 100 mg
GenericName : Bendamustine Injection
Manufacturer : Adley
WhatBendamustine Is Used For:
Bendamustine is used for treatment of chronic lymphocytic leukemia (CLL).

Bendamustine is used for the treatment of patients with indolent B-cell non-Hodgkin's lymphoma.
How Bendamustine Is Given:
As an injection into the vein (intravenous, IV).
There is no pill form of Bendamustine.
Bendamustine Side Effects:
Important things to remember about the side effects ofBendamustine:
Most people will not experience all ofthe Bendamustine side effects listed.
Bendamustine side effects are often predictable in terms oftheir onset, duration, and severity.
Bendamustine side effects are almost always reversible and willgo away after therapy is complete.
Bendamustine side effects may be quite manageable. There aremany options to minimize or prevent the side effectsof Bendamustine .
Bendamustine Precautions
:
Before starting Bendamustine treatment, make sure youtell your doctor about any other medications you are taking (includingprescription, over-the-counter, vitamins, herbal remedies, etc.). Whiletaking Bendamustine do not take aspirin or products containingaspirin unless your doctor specifically permits this.
While taking Bendamustine , do not receive any kind ofimmunization or vaccination without your doctor's approval.
Inform your health care professional if you are pregnant or maybe pregnant prior to starting Bendamustine. Pregnancy category D(Bendamustine may be hazardous to the fetus. Women who are pregnantor become pregnant must be advised of the potential hazard to the fetus).
How Bendamustine Works:
Cancerous tumors are characterized by cell division, which is nolonger controlled as it is in normal tissue. "Normal"cells stop dividing when they come into contact with like cells, a mechanismknown as contact inhibition. Cancerous cells lose this ability. Cancer cells no longer have the normal checks and balances in place thatcontrol and limit cell division. The process of cell division, whethernormal or cancerous cells, is through the cell cycle. The cell cycle goesfrom the resting phase, through active growing phases, and then to mitosis(division).
The ability of chemotherapy to kill cancer cells depends on itsability to halt cell division. Usually, the drugs work by damaging theRNA or DNA that tells the cell how to copy itself in division. If thecells are unable to divide, they die. The faster the cells are dividing,the more likely it is that chemotherapy will kill the cells, causing the tumorto shrink. They also induce cell suicide (self-death or apoptosis).
Trade Information
Cash in Advance (CID), Cash Advance (CA)

10000 Per Week
15-20 Days

Africa, Middle East, Western Europe, Eastern Europe, South America, North America, Central America, Australia, Asia