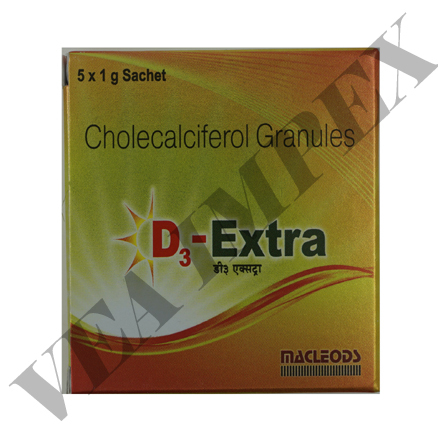 D3 Extra Granules
Price And Quantity
Product Specifications
General Medicines

Granules
Product Description
Productname : D3 Extra
GenericName : Cholecalciferol Granules
Manufacturer :Macleods Pharmaceuticals Ltd
Uses
VitaminD (ergocalciferol-D2, cholecalciferol-D3, alfacalcidol) isa fat-soluble vitamin that helps your body absorb calcium andphosphorus. Having the right amount of vitamin D, calcium, andphosphorus is important for building and keeping strong bones. Vitamin D isused to treat and prevent bone disorders (suchas rickets, osteomalacia). Vitamin D is made by the body when skin isexposed to sunlight. Sunscreen, protective clothing, limited exposure tosunlight, dark skin, and age may prevent getting enough vitamin D from the sun.
How to use VITAMIN D3 Tablet
Take vitaminD by mouth as directed. Vitamin D is best absorbedwhen taken after a meal but may be taken with or without food. Alfacalcidol isusually taken with food. Follow all directions on the product package. If youare uncertain about any of the information, consult your doctoror pharmacist.
If your doctor hasprescribed this medication, take as directed by your doctor. Your dosageis based on your medical condition, amount of sun exposure, diet, age, andresponse to treatment.
If you are using theliquid form of this medication, carefully measure the dose using a specialmeasuring device/spoon. Do not use a household spoon because you may not getthe correct dose.
Side Effects
Vitamin D atnormal doses usually has no side effects. If you have any unusual effects,contact your doctor or pharmacist promptly.
If your doctor hasdirected you to take this medication, remember that he or she has judgedthat the benefit to you is greater than the risk of side effects. Many peopleusing this medication do not have serious side effects.
Too much vitaminD can cause harmful high calcium levels. Tell your doctor rightaway if any of these signs of high vitamin D/calcium levelsoccur: nausea/vomiting, constipation, loss of appetite, increasedthirst, increased urination, mental/mood changes, unusual tiredness.
Precautions
Beforetaking vitamin D, tell your doctor or pharmacist if you areallergic to it; or to other vitamin D products (such as calcitriol);or if you have any other allergies. This product may contain inactiveingredients (such as peanut/soy), which can cause allergic reactions or otherproblems. Talk to your pharmacist for more details.
Before usingthis medication, tell your doctor or pharmacist your medical history,especially of: high calcium/vitamin D levels(hypercalcemia/hypervitaminosis D), difficultyabsorbing nutrition from food (malabsorption syndrome), kidneydisease, liver disease.
Interactions
Druginteractions may change how your medications work or increaseyour risk for serious side effects. This document does not contain allpossible drug interactions. Keep a list of all the products you use(including prescription/nonprescription drugs and herbal products) and share itwith your doctor and pharmacist. Do not start, stop, or change the dosageof any medicines without your doctor's approval.
Trade Information
Cheque, Cash in Advance (CID), Cash Advance (CA)

10000 Per Week
15-20 Days

Africa, Middle East, Western Europe, Eastern Europe, South America, North America, Central America, Australia, Asia