Geftib tablets 250 mg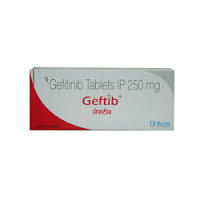 Geftib tablets 250 mg
Price And Quantity
Product Specifications
Product Description
Brand Name: Geftib
Active Content: Gefitinib I.P
Made by: Onkos Pharmaceuticals Ltd.
Strength: 250 mg
Type: Tablet
Packing: 30 tablets in one pack
Geftib is a sort of medication known as tyrosine kinase inhibitor (TKI) that comes under the category of anti cancer medication. This medicine is made by Onkos Pharmaceuticals Ltd. Kinases are body supplements that direct how the cells divide and develop. Our medicine inhibits the supplement from passing signs to the cells of cancer that enable them to divide and grow.
Applications:
Individuals who suffer from non-small cell lung cancer, for them our medicine is useful in its treatment. Our geftib simply functions for cancers, which possess a irregular state of supplement acknowledged as epidermal development factor receptor. Examinations are performed on the cells of cancer from a previous surgery or lung biopsy to inspect the EGFR level.
What Are The Side Effects?
There are various side effects that are associated with various medicines so does ours have. Weight loss, vomiting, vision issues, unusual weakness, nausea, mouth ulcers, loss of appetite, dry skin, diarrhea and acne are the extreme side effects of our Geftib. Ask for doctor's assistance, at the point when any of the said side effects persists or deteriorates.
Below are some of the side effects that might need medical attention:
Some allergic responses such as swelling of tongue, lips, face, mouth or eyelids, chest tightness, troublesome breathing, hives, rashes, itching, cough, dizziness, eye pain or irritation, dark urine, fever, diarrhea, fatigue, stomach ache, swelling of feet or ankles.

We have not offered comprehensive list of possible symptoms. Thus, any other side effect occurs that is not enlisted here then consult to your pharmacist or doctor.
Precautions And Warning:
It is suggested to conduct a doctor-patient session prior to starting our Gefitinib treatment, therefore, inform your doctor regarding different medicines that you are consuming such as herbal remedies, vitamins, over the counter, prescription and others.

Reveal your physician if you have past record or have lungs scarring (pulmonary fibrosis) or other breathing or lung issues, vision or eye issues, or liver disease.

Any lady, who has toddler(s) should not breastfeed the baby in the course of taking our Gefitinib.

You should opt for your routine appointments with hospital or doctor. This is implied so that your physician will be able to comprehend your progress after you start receiving your treatment over the course of time. Always inform the doctor about the drugs that you are consuming, if you are going to have dental treatment or operation.

Kindly contact your pharmacist or physician for more information about the medicine since we have not provided intact list to you.
Interaction:
Try to not to begin, change or stop the measurement of dosage of any drug prior to consulting you doctor first as your physician may be knowledgeable of any feasible drug interactions as well as may be directing you for the medicines.

Prior to utilizing this pharmaceutical, inform your drug specialist or health care specialist of all nonprescription as well as prescription medicines you may utilize, particularly of: blood thinners, medicines that decrease stomach corrosive such as rabeprazole, lansoprazole, omeprazole, famotidine, cimetidine, rantidine; specific liver enzyme inhibitors known as CYP 3A4 inhibitors, for example, clarithromycin, erythromycin, itraconazole, ketooconazole; vinorelbine; corticosteroids like prednisone and NSAIDs, for example, naproxen and ibuprofen.

Several liver protein inducer meds, for example, rifamycins, St. John's phenytoin or wort will fortify specific liver catalysts (CYP 3A4). The amount of dosage of our gefitinib may require to be expanded if any individual is utilizing such pharmaceuticals.

Counsel your doctor for extended data. This archive does not include every conceivable interactions.
Storage:
Keep our medicine at room temperature that should vary between 68 and 77 oF or 20 and 25 oC in dry and cool area, far from direct light and heat. Try not to keep any medicine near a sink or in the bathroom.
Disposal:
If your health care specialist instructs you to quit taking this drug or the date of expiry has passed, request that your drug specialist what do with any prescription that are left over.
Trade Information
Cash in Advance (CID), Cash Advance (CA), Cash on Delivery (COD), Cash Against Delivery (CAD)

10000 Per Week