Inderal 10 mg tablets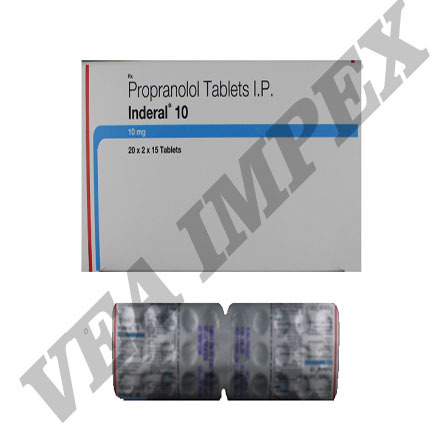 Inderal 10 mg tablets
Price And Quantity
Product Specifications
General Medicines

Propranolol
As directed by the physician

Dry Place
Product Description
Product name : Inderal 10 mg Tablets
Generic Name : Propranolol
Manufacturer : Abbott India Ltd
Inderal 10 MG Tablet is a drug that is called a beta-blocker. It is used to treat irregular heartbeats, high blood pressure, excessive migraines, chest pain from angina, anxiety and to prevent hear tattacks.
Inderal 10 MG Tablet is abeta-blocking agent that attaches itself to the heart, and inhibits the regular molecules from triggering the receptors. It blocks the beta-adrenergicreceptors in the heart, thus slowing your heartbeat down and lowering the blood pressure. This lowers the stress placed on your heart, arteries, veins and blood vessels, decreasing the workload of the heart. In this way, it is effective in lowering blood pressure preventinga heart attack.
Inderal 10 MG Tablet is abeta-blocking drug that works on the blood vessels, blood circulation and the heart. This drug is a Non-selective beta-blocker, which means that it works in the same manner on the heart, lungs and other organs. Inderal 10 MG Table slows down the activity of the heart, by blocking the beta-adrenergic receptors within it. This lessens the workload on the heart by lowering the heartbeat and controlling the heart rhythm. Therefore, Inderal 10 MG Tablet can help in the treatment of conditions such as hypertension, angina (chest pains), arrhythmia,migraines and it reduces chances of a stroke or a heart attack. It is also used to treat the symptoms of anxiety, such as tremors, sweating and rapid heartbeat.
Uses of Inderal Tablet
Inderal10 mg Tablet is used in the treatment of chest pain (Angina), highblood pressure, preventive treatment of migraine and anxiety.
Inderal Tablet side effects
Side Effects of Inderal are Tiredness, Cold extremities, Nightmare, Stomach pain,Diarrhoea, Slow heart rate.
How to use Inderal Tablet
Take this medicine in the dose and duration as advised by your doctor. Swallow it asa whole. Do not chew, crush or break it. Inderal 10 mg Tablet is to be taken empty stomach.

Avoid Inderal 10 mg Tablet with high-fat meals such as olive oil, nuts &seeds (Brazil nuts), dark chocolate, butter and meat.
How Inderal Tablet works
Inderal10 mg Tablet is a beta blocker which lowers blood pressure. It works by slowing heart rate and relaxing blood vessels to improve blood flow to organs.
Trade Information
Africa, Middle East, Western Europe, Eastern Europe, South America, North America, Central America, Australia, Asia

All India