Kemocarb injection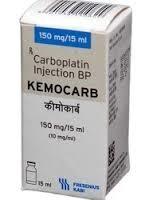 Kemocarb injection
Price And Quantity
Product Specifications
Normal Smell

Room temperature
Product Description
Brand Name: Kemocarb
Generic Name: Carboplatin
Manufacturer: Fresenius Kabi
Type: Injection
Strength: 150mg/15ml
Packing: 1 vial per pack
Our anti cancer medicine named as Kemocarb injection is deployed for propelled lung cancer, uterus cancer, neck cancer, testicular cancer, ovarian cancer, bladder cancer, head cancer, cervical cancer and different conditions. In addition, our injection has an active content that is known as Carboplatin. The Kemocarb Injection that we are providing to the customers, hospitals, clinics, etc. works by destroying the cells of cancer by fastening to the DNA as well as ceasing their development.
What Are The Uses Of Our Injection:
Below is the list of side effects, diseases and conditions that our Kemocarb Injection is useful in improving, averting, controlling and treating:
Progressed Ovarian Cancer

Bladder Cancer

Testicular Or Cervical Cancer

Neck And Head Cancer

Lung Cancer

Uterus Cancer
List Of Included Side Effect:
Vomiting, nausea, bleeding, infections, neutropenia and thrombocytopenia are the common side effects of our injection.
We are proving our list of side effects that may happen after using our injection. Recall we are not providing complete list of side effects. Hence, below are the possible side effects that usually do not occur. Some side effects can be major as well as rare but serious, thus, visit your nearby health care center if you notice any of the symptoms continue or worsen:
Bleeding

Infections

Nausea

Neutropenia

Ototoxicity

Thrombocytopenia

Vomiting
Precautions And How To Use
Hand over the list of your present health conditions, list of medicines, allergies, over the counter items and pre-existing disease, before using our injection. Since there are various health conditions, therefore by ignoring the aforesaid, some of your conditions will make you more prone to side effects of our injection. Take the injection as prescribed by the doctor or adhere to the instructions provided with the pack of our injection. The amount of dose will solely depend of your medical health condition. If any symptoms persist or degrade, inform the doctor right away. Essential directing points are recorded below:
Prevent association with other people who have infections or are sick.

Prior to any vaccinations, kindly check it with your health care provide.

If you are encountering hyperuricemia, hypomagnesemia, kidney disorder and hypocalcaemia, kindly counsel your doctor.

Try not to father a baby while on this treatment.

Try not to utilize aluminum including instrument for its delivery.

Regular monitoring and transfusions of platelets counts can be demanded.

Keep up great hydration.

Oversee renal functions, haematological, neurological status as well as liver and kidney function amid treatment.

Hearing and Neurological evaluations might be needed on routine basis.

Tell specialist if you observe any indications of infections such as fever, chills, cough, etc.

Peripheral blood numbers ought to be checked as often as possible.

Utilize two techniques for birth control while on this treatment as well as 6 months following it.