Colstim Injection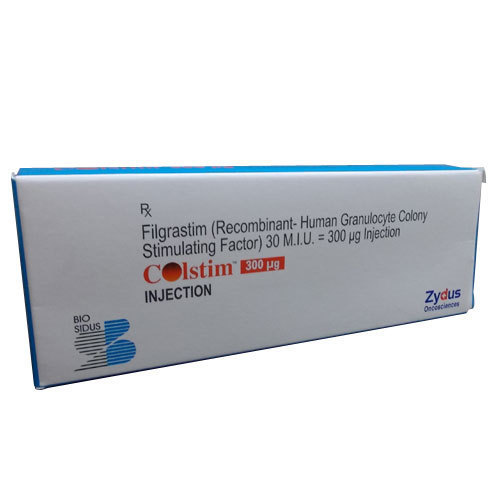 Colstim Injection
Price And Quantity
Product Specifications
Room tempreture

2-3 Months
Product Description
The active component of the drug Colstim Injection is filgrastim. A human granulocyte colony-stimulating factor (G-CSF) analogue called filgrastim is used to promote neutrophil maturation, a stage in the development of this kind of white blood cell, in the bone marrow. To lower the risk of infection, the injection is often indicated for patients receiving chemotherapy or a bone marrow transplant. It can be given subcutaneously or intravenously.
Colstim Injection serves to strengthen the immune system and raise blood levels of neutrophils, which can help patients avoid infections when receiving cancer therapy or having a bone marrow transplant. According to each patient's individual medical needs and treatment plan, it is given and dosed, and it is closely monitored by a doctor to check on treatment effectiveness and any potential adverse effects. Bone discomfort, headaches, and adverse injection site reactions are examples of frequent side effects.
Colstim Injection (Filgrastim) features include:
1. Filgrastim, a human granulocyte colony-stimulating factor (G-CSF) analogue, is the injection's active ingredient.
2. Support for the Immune System: Colstim Injection increases neutrophil maturation and production, a kind of white blood cell, in the bone marrow, which aids in enhancing the immune system.
3. It is possible to administer the injection intravenously or subcutaneously, giving patients more options for how the medication is delivered.
4. Assist for Cancer Patients Receiving Chemotherapy: Chemotherapy can reduce bone marrow activity and diminish white blood cell counts, which raises the risk of infections. Colstim is used to assist cancer patients receiving chemotherapy.
5. Support for Bone Marrow Transplantation: The injection is also given to patients receiving a bone marrow transplant since it speeds up the process of recovering bone marrow function and white blood cell production.
Colstim Injection (Filgrastim) Advantages:
1. Reduced Infection chance: Colstim assists patients receiving chemotherapy or bone marrow transplants by boosting their neutrophil counts, which helps shield them from infections and lowers the chance of potentially significant side effects.
2. Improved Tolerance of Chemotherapy or Bone Marrow Transplantation: Colstim helps patients better tolerate chemotherapy or bone marrow transplantation and shortens treatment times.
3. Maintaining sufficient white blood cell counts with Colstim may improve treatment results and disease control while undergoing cancer treatment.
4. Enhanced Quality of Life: Cancer patients and those undergoing bone marrow transplantation may experience an improved quality of life by reducing their risk of infections and complications.
5. Supportive Care: Colstim injection is a crucial component of supportive care in the treatment of cancer and bone marrow transplantation, assisting patients in more successfully enduring their therapeutic journey.
6. Flexibility in the delivery of the treatment based on the needs and preferences of the patient is made possible by the option to inject Colstim either subcutaneously or intravenously.
7. Continual Support During Risky Times: Immune system deterioration brought on by chemotherapy and bone marrow transplants makes patients more susceptible to infections. Colstim offers dependable assistance during this crucial time.
Individual reactions to Colstim Injection (Filgrastim) may differ, thus healthcare experts carefully monitor its delivery to maximise therapy results while controlling any side effects. Throughout the course of treatment, patients should speak with their medical specialists for personalised counsel and direction.
Trade Information
Cash Against Delivery (CAD) Cash on Delivery (COD) Cash in Advance (CID) Cash Advance (CA)

10000 Per Week
7-15 Days

Eastern Europe Middle East South America Western Europe North America Australia Africa Central America Asia