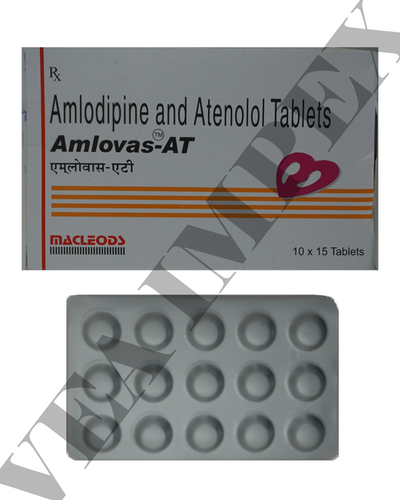 Amlovas at(Amlodipine and atenolol Tablets)
Price And Quantity
Product Specifications
General Medicines

Amlodipine and atenolol
Product Description
Product name : Amlovas at
Generic Name : Amlodipine andatenolol Tablets
Manufacturer : Macleods
Amlovas-AT Tablet acts as a calciumchannel blocker that improves blood flow by dilating blood vessels. It is usedto treat angina, high blood pressure and coronary heart disease. Itis recommended in case of heart failure if other medications fail to work. Amlovas-AT Tablet isadministered orally and its effects last for at least a day.
Some side effects of Amlovas-ATTablet include swelling, abdominal pain, feeling tired and nausea. Serious side effects include low blood pressure or a mild heart attack. The medicine may not be safe to useduring pregnancy or breastfeeding.Dosage should be low for elderly people and for those with liver problems. If you have heart problems thenintake of Amlovas-AT Tablet may increase your health problems. It is notapproved to be used by anyone who is 6 years of age or younger. Intake ofalcohol along with this medicine may increase its side effects.
The usual dose for Amlovas-AT Tabletis 5mg to 10 mg, taken orally once a day for as long as prescribed the doctor.The dosage is later adjusted depending on your reaction to the first dose. Itis often times used in combination with other anti-hypertensive andanti-anginal medicines. If you miss a dose then take the next dose as soon aspossible. If it is nearly time for the next one, then you should skip themissed dose. In case of overdosing, seek medical attention immediately.
Uses of Amlovas-AT Tablet
Amlovas-AT 5mg/25mg Tablet is used in thetreatment of high blood pressure.
Amlovas-AT Tablet side effects
SideEffects of Amlovas-AT are Sleepiness, Headache, Ankle swelling, Flushing (senseof warmth in the face, ears, neck and trunk), Slow heart rate, Palpitations,Nausea, Edema (swelling), Constipation, Tiredness, Cold extremities.
How to use Amlovas-AT Tablet
Take this medicine in the dose and durationas advised by your doctor. Swallow it as a whole. Do not chew, crush or breakit. Amlovas-AT 5mg/25mg Tablet is to be taken empty stomach.
How Amlovas-AT Tablet works
Amlovas-AT 5mg/25mg Tablet is a combinationof two medicines: Amlodipine and atenolol which lower blood pressureeffectively. Amlodipine is a calcium channel blocker which works by relaxingblood vessels while atenolol is a beta blocker that works specifically on theheart to slow down the heart rate. Together, they make the heart more efficientat pumping blood throughout the body.
Trade Information
Cash in Advance (CID), Cash Advance (CA)

10000 Per Week
15-20 Days

Africa, Middle East, Western Europe, Eastern Europe, South America, North America, Central America, Australia, Asia