Folvite Tablets(Folic Acid Tablets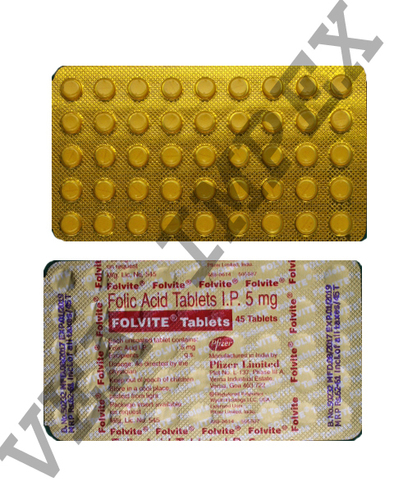 Folvite Tablets(Folic Acid Tablets
Price And Quantity
Product Specifications
General Medicines

Tablets
Product Description
ProductName : Folvite Tablets
GenericName : Folic Acid Tablets
Manufacturer : Pfizer Limited
Uses
Folic acid is theman-made form of folate. Folate is a B-vitamin naturally found in some foods.It is needed to form healthy cells, especially red blood cells.
Folic acid supplements maycome in different forms (such as L-methylfolate, levomefolate,methyltetrahydrofolate). They are used to treat or prevent low folate levels.Low folate levels can lead to certain types of anemia. Conditions that cancause low folate levels include poor diet, pregnancy, alcoholism, liver disease,certain stomach/intestinal problems, kidney dialysis, among others.Women of childbearing age should receive adequate amounts of folic acid eitherthrough their diet or supplements to prevent infant spinalcord birth defects.
How to use FolviteTablet
Take this productby mouth with or without food as directed by your doctor, usuallyonce daily. If you are taking the over-the-counter product, follow alldirections on the product package. If you have any questions, ask your doctoror pharmacist.
Dosage is based on yourmedical condition and response to treatment. Do not increase your dose or takethis product more often than directed.
Take this productregularly to get the most benefit from it. To help you remember, take it at thesame time each day. Follow the diet plan recommended by your doctoror dietician. See also Notes section.
Side Effects
Folic acid usuallyhas very few side effects. If you have any unusual effects from taking thisproduct, tell your doctor or pharmacist promptly.
If your doctor hasdirected you to use this product, remember that he or she has judged that thebenefit to you is greater than the risk of side effects. Many people using thisproduct do not have serious side effects.
A veryserious allergic reaction to this drug is rare. However, get medicalhelp right away if you notice any symptoms of a serious allergic reaction,including: rash, itching/swelling (especially of theface/tongue/throat), dizziness, trouble breathing.
This is not a completelist of possible side effects. If you notice other effects not listed above,contact your doctor or pharmacist.
Precautions
Before taking thisproduct, tell your doctor or pharmacist if you are allergic to it; orif you have any other allergies. This product may contain inactiveingredients, which can cause allergic reactions or other problems. Talk to yourpharmacist for more details.
Before using thisproduct, tell your doctor or pharmacist your medical history, especially of:vitamin B-12 deficiency (pernicious anemia).
Before having surgery,tell your doctor or dentist about all the products you use(including prescription drugs, nonprescription drugs, and herbalproducts).
Folic acid is safeto take during pregnancy when used as directed. It is included inprenatal vitamin products. Certain spinal cord birth defects may beprevented by taking adequate amounts of folic acid during pregnancy. Consultyour doctor for more details.
Interactions
Drug interactions maychange how your medications work or increase your risk for seriousside effects. This document does not contain all possible druginteractions. Keep a list of all the products you use (includingprescription/nonprescription drugs and herbal products) and share it with yourdoctor and pharmacist. Do not start, stop, or change the dosage of anymedicines without your doctor's approval.
Trade Information
Cash in Advance (CID) Cheque Cash Advance (CA)

10000 Per Week