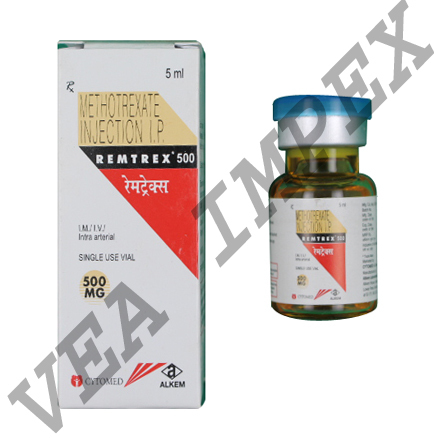 Remtrex 500 mg(Methotrexate Injection Ip)
Price And Quantity
Product Specifications
Product Description
ProductName : Remtrex 500
GenericName : Methotrexate Injection Ip
Manufacturer : Alkem Laboratories Ltd
Uses
Methotrexate isused to treat certain types of cancer or to controlsevere psoriasis or rheumatoid arthritis. It may also be used tocontrol juvenile rheumatoid arthritis. Methotrexatebelongs to a classof drugs known as antimetabolites. It works by slowing or stopping the growthof cancer cells and suppressing the immune system.
Earlytreatment of rheumatoid arthritis with more aggressive therapy suchas methotrexate helps to reduce further joint damage and topreserve joint function.
Howto use Methotrexate Vial
Readthe Patient Information Leaflet if available fromyour pharmacist before you start using methotrexate andeach time you get a refill. If you have any questions, ask your doctor orpharmacist.
This medication isgiven by injection as directed by your doctor. The dosage, method of injection,and how often you receive this medication are based on your medical conditionand response to treatment. For the treatment of rheumatoidarthritis or psoriasis, this medication is given by injection asdirected by your doctor, usually once a week.
Side Effects
Seealso Warning section.
Nausea, vomiting, stomachpain, drowsiness, or dizziness may occur. If any of these effectspersist or worsen, tell your doctor or pharmacist promptly.
Temporary hairloss may occur. Normal hair growth should return after treatmenthas ended.
Rememberthat your doctor has prescribed this medication because he or she hasjudged that the benefit to you is greater than the risk of side effects. Manypeople using this medication do not have serious side effects.
Tellyour doctor right away if you have any serious side effects,including: mouth sores, diarrhea, signsof anemia (such as unusual tiredness, pale skin), signsof liver problems (such as dark urine,persistent nausea/vomiting, stomach/abdominal pain,yellowing eyes/skin), easy bruising/bleeding, black stools, enlargedglands/lymph nodes, bone pain, unusual pain and discoloration of the skin,signs of kidney problems (such as change in the amount of urine),dry cough, muscle weakness.
Precautions
Seealso Warning section.
Beforeusing methotrexate, tell your doctor or pharmacist if you areallergic to it; or if you have any other allergies. This product maycontain inactive ingredients, which can cause allergic reactions or otherproblems. Talk to your pharmacist for more details.
Beforeusing this medication, tell your doctor or pharmacist your medical history,especially of: liver disease, kidney disease, lungdisease (such as pulmonary fibrosis), alcohol use,suppressed immune system, blood cell/bone marrowdisorders, stomach/intestinal diseases (such as pepticulcer, ulcerative colitis), any active infection(including chickenpox or recent exposure to it), folicacid deficiency.
Interactions
Seealso Warning section.
Druginteractions may change how your medications work or increaseyour risk for serious side effects. This document does not contain all possible druginteractions. Keep a list of all the products you use (includingprescription/nonprescription drugs and herbal products) and share it with yourdoctor and pharmacist. Do not start, stop, or change the dosage of anymedicines without your doctor's approval.
Someproducts that may interact with this druginclude: acitretin, asparaginase, chloramphenicol, leflunomide,other drugs that can cause kidney problems (such as cisplatin),other drugs that can cause liver problems (suchas azathioprine, sulfasalazine, retinoids such as isotretinoin),penicillins, phenytoin, probenecid, procarbazine, pyrimethamine,sulfa medications, tetracyclines.
Trade Information
Cheque, Cash Advance (CA)

10000 Per Week
15-20 Days

Africa, Middle East, Western Europe, Eastern Europe, South America, North America, Central America, Australia, Asia