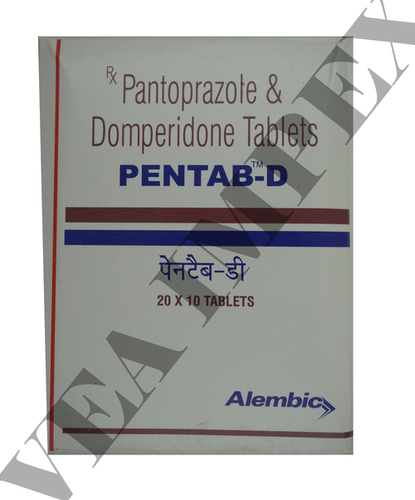 Pentab D(Pantoprazole & Domperidone Tablets)
Price And Quantity
Product Specifications
General Medicines

Pantoprazole & Domperidone
Product Description
Product name : Pentab D
Generic Name : Pantoprazole &Domperidone Tablets
Manufacturer : Alembic
Pentab D 20 Mg/30 Mg Tablet, a partof the dopamine antagonists group of drugs, prevents the tendency of vomiting and nausea in people suffering from gastrointestinalproblems and also those who take certain medicines for Parkinson's disease. The medicine tightens the musclesnear the entrance of the stomach and relaxes the ones present at the exit. Thisaction helps to speed up the passing of the food that you intake - from yourstomach to your intestine, reducing the feeling of nausea and sickness, alsopreventing vomiting. It can also block, or reduce stimulation in the 'vomitingcentre' of your brain, which will eventually reduce the feeling of nausea andvomiting.
Pentab D 20 Mg/30 Mg Tablet is a partof the drug group known as dopamine antagonists. It can be used for treatingthe slow passage of food in your gastrointestinal tract, generally associatedwith gastritis or diabetes. For people suffering from thiscondition, Pentab D 20 Mg/30 Mg Tablet can treat the symptoms of vomiting,nausea, bloating and feeling full.Apart from that, it can also prevent vomiting and nausea that is associatedwith Parkinson's disease. The medication works by emptying your stomachquickly, reducing nausea. It also reduces or blocks stimulation in the part ofthe brain called the 'vomiting centre'. The nerve messages coming from your gutwill be suppressed and the feeling of nausea and vomiting is prevented. It isavailable in tablet or suspension form and has to be taken orally.
Uses of Pentab-D Tablet
Pentab-D 30mg/40mg Tablet is used in thetreatment of acidity and heartburn.
Pentab-D Tablet side effects
SideEffects of Pentab-D are Diarrhoea, Stomach pain, Flatulence, Dryness in mouth,Dizziness, Headache.
How to use Pentab-D Tablet
Take this medicine in the dose and durationas advised by your doctor. Swallow it as a whole. Do not chew, crush or breakit. Pentab-D 30mg/40mg Tablet is to be taken empty stomach.
Take it preferably 30 minutes before food.
How Pentab-D Tablet works
Pentab-D 30mg/40mg Tablet is a combination oftwo medicines: Domperidone and Pantoprazole. Domperidone is a prokinetic whichworks on the upper digestive tract to increase the movement of the stomach andintestines, allowing food to move more easily through the stomach.
Trade Information
Cash in Advance (CID), Cash Advance (CA)

10000 Per Week
15-20 Days

Africa, Middle East, Western Europe, Eastern Europe, South America, North America, Central America, Australia, Asia