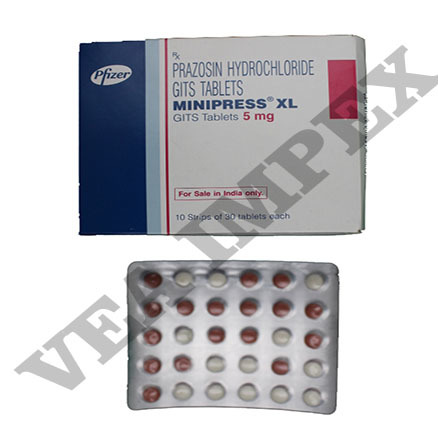 Minipress XL Gits
Price And Quantity
Product Specifications
General Medicines

Tablets
Product Description
Product name : Minipress XL
Generic Name : Prazosin Hydrochloride Gits
Manufacturer : Pfizer Ltd
Uses
Prazosin is usedwith or without other medications to treat high blood pressure.Lowering high blood pressure helps prevent strokes, heartattacks, and kidney problems.
Prazosin belongs to aclass of medications called alpha blockers. It works by relaxing andwidening blood vessels so blood can flow more easily.
How to use Minipress
Takethis medication by mouth with or without food, usually twoor three times daily or as directed by your doctor. If stomach upsetoccurs, take with food or milk. The dosage is based on your age, medicalcondition and response to therapy.
Prazosin canoccasionally cause sudden fainting after the first dose and anytimethat your dose is increased. To reduce your risk of fainting, the first doseprescribed by your doctor will be the smallest dose available. You should takethis first dose as you are going to bed. This will decrease the possibility offainting. Your dose may be gradually increased. Take your first new doseat bedtime when your dose is increased unless directed otherwise byyour doctor.
Side Effects
Headache, drowsiness,tiredness, weakness, blurredvision, nausea, vomiting, diarrhea,or constipation may occur as your body adjusts tothe medication. If any of these effects persist or worsen, tell yourdoctor or pharmacist promptly.
Lightheadedness or dizziness uponstanding may also occur, especially after the first dose and shortly aftertaking a dose of the drug during the first week of treatment. To reduce therisk of dizziness and fainting, get up slowly when rising from a seated orlying position. If dizziness occurs, sit or lie down right away. Your dose mayneed to be adjusted.
Precautions
Before taking prazosin,tell your doctor or pharmacist if you are allergic to it; or to otheralpha blockers (such as doxazosin, terazosin); or if you have anyother allergies. This product may contain inactive ingredients, which cancause allergic reactions or other problems. Talk to your pharmacist for moredetails.
Interactions
Druginteractions may change how your medications work or increaseyour risk for serious side effects. This document does not contain allpossible drug interactions. Keep a list of all the products you use(including prescription/nonprescription drugs and herbal products) and share itwith your doctor and pharmacist. Do not start, stop, or change the dosageof any medicines without your doctor's approval.
Trade Information
Cash in Advance (CID), Cash Advance (CA)

10000 Per Week
15-20 Days

Africa, Middle East, Western Europe, Eastern Europe, South America, North America, Central America, Australia, Asia