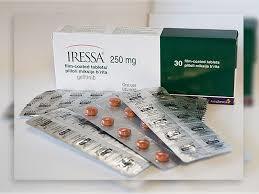 Iressa Tablets 250 mg
Price And Quantity
Product Specifications
Normal Smell

Room temperature
Product Description
Brand Name:
Iressa
Ingredient:
Gefitinib
Type:
Tablets
Strength:
250 mg
Packing:
Pack of 30 tablets
Introduction:
Iressa (gefitinib) is an anticancer drugs given to cancer patients to stop the growth of cancer cells in the body. It is also used to treat non-small cell lung cancer. It should only be taken under the supervision of a practiced healthcare provider having experience on the domain of using cancer chemotherapeutic agents.
You should follow all the instructions and directions labeled on the medicine package. In addition, you must inform your doctor about medical condition, allergy you have. Moreover, your doctor should also know about the other treatments or medicines you are taking.

Uses:
First-line treatment of metastatic non-small cell lung cancer (NSCLC)
Serious Side Effects:
Diarrhea
Allergic reactions
Eye problems
Difficulty in breathing and closing the throat
Loss of appetite
Liver problems
Severe nausea and vomiting
Lung problems
Swelling on tongue, lips, tongue, or face
Call doctor at once in case of the following signs:
Blurred vision
Blistering
Eye pain or redness
Red or purple skin rashes
Liver problems (nausea, itching, upper stomach pain, tired feeling, dark urine, clay-colored stools, loss of appetite)
Skin pain
Severe diarrhea
Severe skin reaction (fever, swelling, sore throat, burning in your eyes)
Sudden chest pain or discomfort
Stomach bleeding (bloody or tarry stools, severe stomach pain, coughing up blood or vomit)
Watery eyes
Trouble in breathing
Worsening or new cough with fever
You must also talk to your doctor about any other side effect that can occur during the treatment.
Precaution:
Never use Iressa, if you are allergic to this medicine.
Talk to your physician if you have disease of liver, kidney or lung, vision problem, breathing problems or if you take a blood thinner.
Never take Iressa during pregnancy as it can harm the unborn baby.
If you are taking this medicine, use effective birth control methods to prevent pregnancy for at least 2 weeks after finishing the treatment.
Consult your doctor if you are planning to conceive as it may affect fertility in women.
Never breast-feed if you are taking this tablet.
How To Use Iressa?
Iressa should only be administered under the supervision of a qualified healthcare provider experienced in the use of cancer chemotherapeutic agent. Before prescribing you this medicine, your doctor should conduct blood tests to detect that you have the right tumor type that has to be treated with Iressa. Always follow the directions of prescription label as your doctor can change your dose to get the best results. Never change the quantity of medicine by yourself. It should not be taken in smaller or larger amounts. You can take this medicine with or without food. While taking this medicine, you should go for blood tests frequently to check the liver functioning.
In addition, follow the given below directions to make swallowing easier:
Keep the Iressa 250 Mg Tablet into a glass of water
Never use any other liquid than water
Stir for 15 minutes and drink the mixture instantly
Never save it for later use
You can add 4-8 ounces of water to the same glass and drink it
This mixture can also be given through a nasogastric (NG) tube. You may ask your doctor for instructions.
Storage:
Store at room temperature
Keep it away from moisture and heat.
Dosage:
For adults who are suffering from non-small cell lung cancer: 250 mg orally once a day.
Trade Information
Cash in Advance (CID), Cash Advance (CA)

10000 Per Week
15-20 Days

Africa, Middle East, Western Europe, Eastern Europe, South America, North America, Central America, Australia, Asia