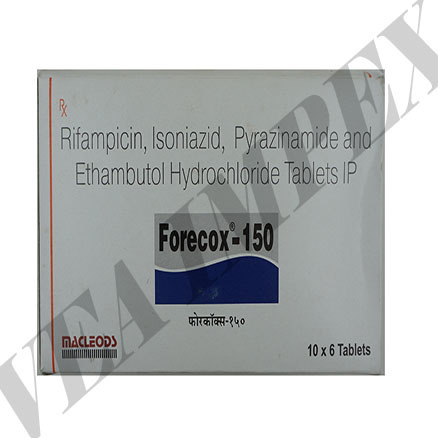 Forecox 150 mg Tablets
Price And Quantity
Product Specifications
Product Description
Productname : Forecox150 mg
GenericName : Rifampicin Isoniazid Pyrazinamide Tablets
Manufacturer :Macleods Pharmaceuticals Ltd
Forecox -150 Tablet is an antibacterial drug whichkills tuberculosis causing organisms. It is therefore used for thetreatment and prevention of tuberculosis. It is supposed to be used with othermedicines till it increase its effectiveness.
Avoid using this medicine if you are allergic to it, ifyou have any liver disorders or if you have had hepatitis from any medicine.Tell your doctor if you have diabetes, a history of alcoholor other substance abuse, kidney problems, nerve problems, unsanitaryinjectable drug habits, HIV, a history of liver problems or ifyou are older than 35 years old, you have recently given birth, or you havepreviously taken isoniazid.
Common side effects include increased blood levels ofliver enzymes and numbness in the hands and feet. Serious side effects mayinclude liver inflammation. Ask your doctor if use during pregnancy is safe for the baby. Its use during breastfeedingis likely to be okay.
Uses of Forecox Tablet
Forecox -150 Tablet isused in the treatment of tuberculosis.
Forecox Tablet side effects
Side Effects ofForecox are Nausea, Vomiting, Rash, Fever, Dark colored urine, Sweating,Increased sputum production, Salivation, Teary eyes, Peripheral neuropathy(tingling and numbness of feet and hand), Increased liver enzymes, Jaundice,Increased uric acid level in blood, Visual impairment.
How to useForecox Tablet
Take this medicine in the dose and duration as advised by yourdoctor. Swallow it as a whole. Do not chew, crush or break it. Forecox -150Tablet is to be taken empty stomach.
Avoid Forecox -150 Tablet with tyramine-rich food such as cheese, smoked fish,meats and some types of beer.
HowForecox Tablet works
Forecox -150 Tablet is a combination of four medicines:Isoniazid, rifampicin, ethambutol and pyrazinamide which treat tuberculosis.Isoniazid works by preventing the TB bacteria from forming their own protectivecovering, while rifampicin inactivates a bacterial enzyme (RNA-polymerase)which is required by TB bacteria to make essential proteins and to reproduce.Together, they kill the bacteria and eradicate the infection. Ethambutol andpyrazinamide, on the other hand work by slowing the growth of these bacteria.
Trade Information
Cash in Advance (CID), Cash Advance (CA)

10000 Per Week
15-20 Days

Africa, Middle East, Western Europe, Eastern Europe, South America, North America, Central America, Australia, Asia