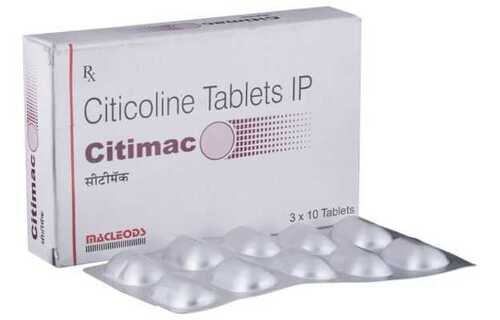 Citicoline Tablets
Price And Quantity
Product Specifications
General Medicines

Tablets
Product Description
Product name : Citimac P
Generic Name : Citicoline Tablets
Manufacturer : Macleods PharmaceuticalsLtd
Citimac P500 MG Tablet is a chemicalthat naturally occurs in the body which is responsible for regulating manyvital processes in the brain as well in as the body. As a medicine, it is takenorally as a dietary supplement or given by IV or as a shot. Citimac P500 MGTablet works by increasing a brain chemical called phosphatidylcholine whichimproves brain function. Citimac P500 MG Tablet also decreases brain tissuedamage during a brain injury by repairingdamaged nerve cells.
Citimac P500 MG Tablet has also been foundto influence the cognitive abilities and improve nerve transmission. Hence, CitimacP500 MG Tablet is used for treating alzheimer's disease and other types ofdementia, cerebrovascular disease such as stroke, head trauma, age-related memory loss, attention deficit-hyperactivedisorder, parkinson's disease, and glaucoma.
Most people who take Citimac P500 MGTablet do not experience any problematic side effects. But in some rare cases,side effects such as insomnia,low or high blood pressure headache, blurredvision, diarrhoea, nausea, chest pains,and others. The safety of taking this medicine if you are pregnant or breast-feeding is unknown.Avoid use to stay on the safe side.
Uses of Citimac PTablet
Citimac P500 mg Tablet is used in thetreatment of stroke, head injury, Alzheimer'sdiseaseand dementia in Parkinson's disease.
Citimac PTablet side effects
SideEffects of Citimac Pare Decreased blood pressure, Stomach pain, Diarrhoea,Irregular heart rate.
How Citimac PTablet works
Citimac P500 mg Tablet is a nerve protectingmedicine. It works on the brain by nourishing the nerve cells, protects themfrom damage and improves their survival.
Trade Information
Cash Advance (CA)

10000 Per Week
15-20 Days

Africa, Middle East, Western Europe, Eastern Europe, South America, North America, Central America, Australia, Asia