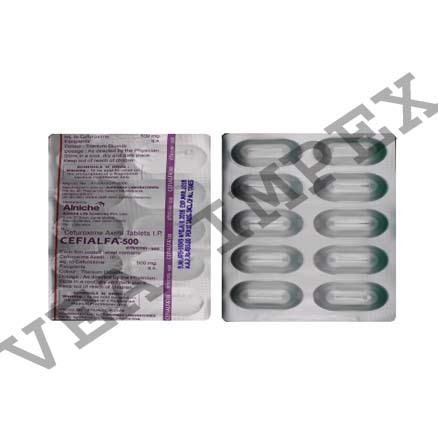 Cefialfa 500 mg(Cefuroxime)
Price And Quantity
Product Specifications
General Medicines

Tablets
Product Description
Generic Name : CefuroximeManufacturer : Alniche
This medication is asemi synthetic cephalosporin antibiotic, prescribed for different types ofinfections such as lung, ear, throat, urinary tract and skin.
How does Cefuroximework:
Cefuroxime works toharm the bacteria and fight the infection.
How shouldCefuroxime be used:
Adult- Po- Therecommended dose range is 125mg to 3gmsday, in divided doses. IVIM- Surgicalprophylaxis- 1.5 g IV per-op, then 750 mg IM 8 hourly for up to 24-48 hours. Itcomes as a tablet, syrup and suspension to take by mouth, with food. It alsocomes as solution for injection to be administered by a healthcare providerinto the vein or large muscle.
Common sideeffects of Cefuroxime :
Upset stomach orthrowing up. Many small meals, good mouth care, sucking hard, sugar-free candy,or chewing sugar-free gum may help. - Loose stools (diarrhea). Yogurt orprobiotics may help. You may get these products at health food stores or insome pharmacies. - For women, vaginal yeast infection. Report itching ordischarge.
What do Ido if I miss a dose
Take a missed dose assoon as you think about it. - If it is close to the time for your next dose,skip the missed dose and go back to your normal time. - Do not take 2 doses atthe same time or extra doses. - Do not change the dose or stop this drug. -Talk with the doctor.
Whatprecautions should I take when taking Cefuroxime :
Alert your doctor ifyou have a history of allergic reactions (rash, breathlessness, swollen mouthor eyes) to similar antibiotics such as cefalexin, cefaclor, cefixime,ceftibuten or any other cephalosporin antibiotics. - Alert your doctor if youare allergic to penicillin antibiotics, for example, amoxicillin, ampicillinand cloxacillin. Penicillins are related to cephalosporins and if you areallergic to one, you may be allergic to the other too.
When do Ineed to seek medical help
If you think there wasan overdose, call your local poison control center or ER right away. - Signs ofa very bad reaction to the drug. These include wheezing; chest tightness;fever; itching; bad cough; blue or gray skin color; seizures; or swelling offace, lips, tongue, or throat. - Very upset stomach or throwing up. - Veryloose stools (diarrhea), even after drug is stopped. - Any bruising orbleeding. - Any rash. - Side effect or health problem is not better or you arefeeling worse.
Can I takeCefuroxime with other medicines:
Do not take Cefuroximetogether with antacids because antacids could reduce the effectiveness of theantibiotic. Antacids are not likely to relieve the stomach discomfort thatCefuroxime may cause. If you must take antacids, take between meals at least 2hours before or 2 hours after you have taken Cefuroxime. Alert your doctor ifyou are taking warfarin or probenecid. Always inform your doctor and pharmacistif you are taking any other medicines, including herbal medicines and medicinesthat you buy without a prescription.
Trade Information
Cheque, Cash in Advance (CID), Cash Advance (CA)

10000 Per Week
15-20 Days

Africa, Middle East, Western Europe, Eastern Europe, South America, North America, Central America, Australia, Asia