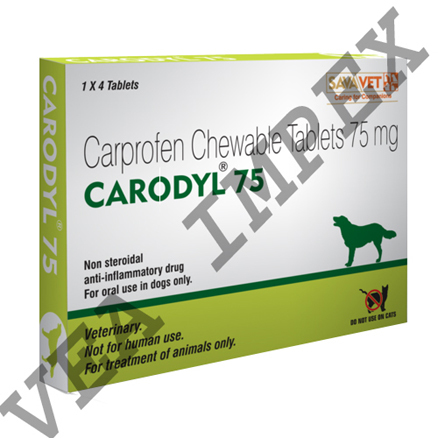 Carodyl 75mg(Carprofen Chewable Tablets )
Price And Quantity
Product Specifications
Product Description
Productname : Carodyl 75
GenericName : Carprofen Chewable Tablets 75mg
Manufacturer: Veterinary
Uses:
Carodyl(Carprofen) is used to help alleviate the symptoms of canine arthritis ingeriatric dogs. It is a non-steroidal anti-inflammatory drug which may also beused to reduce swelling and pain after medical procedures such as neutering orspaying. It can be used on a short term basis or for daily relief fromconditions more chronic conditions such as osteoarthritis, hip dysplasia, andvarying joint deterioration. It may also be used to help reduce post-operativediscomfort after surgical procedures.
Dosage andAdministration:
Carodyl(Carprofen) dosage is calculated in accordance with the dog's weight, and isusually 4.4mg per kilogram or 2mg per lb. The dose may be taken as a singulardose or divided into a morning and evening dose. Dosing can be done eitheralongside food, or directly into the pet's mouth. When used for post-operativediscomfort it is usually administered 2 hours prior to the procedure.
Sideeffects:
Carodyl(Carprofen) may cause the following side effects, all of which should bereported to your vet promptly. Stomach upset Vomiting Diarrhea Tarry or darkstool Tiredness and weakness Loss of coordination Seizures and convulsions Gastritisor ulcer formation Paralysis (part or full) Scabs Itching Behavioral changesLiver malfunction Kidney damage Increased thirst Increased urination Loss ofappetite Precautions If the dog has an allergic or hypersensitive reaction,seek emergency medical attention. Carodyl (Carprofen) should only be used asinstructed and prescribed by your vet.
Do not alter yourdosage unless specifically instructed to do so by either of the above. Dosageand usage often depends on the severity of the condition, as well as the dog'smedical history and current health condition.
Before you beginusing this medication, ensure your vet is aware if the dog is pregnant ornursing pups, has any allergies, suffers from any other illnesses or healthconditions, or is using any other medication or supplements.
Trade Information
Cash in Advance (CID), Cash Advance (CA)

10000 Per Week
15-20 Days

Africa, Middle East, Western Europe, Eastern Europe, South America, North America, Central America, Australia, Asia